Overlays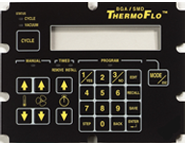 Overlays are vital part of any modern control component for human-machine interface (HMI), Branding or other visual interaction. Graphic Overlays are usually the first thing that end user sees when interacting with a Machine or product. Consequently, the overlay has a big influence on the customer's first impression. Attention to detail, precise color matching & intuitive graphics are critical factors in creating an effective graphical overlay & user interface experience.
Material for overlays ranges from 7 mil to 30 mil. Material choice depends on the end user application & the environment in which it will be used, including exposure to sunlight & chemicals. Commonly used materials are Polycarbonate (PETG or Lexan) & Polyester (PET)
Benefits of Graphic Overlays,

Durability
Subsurface graphics – printing is done on the inside of the graphic overlay so it doesn't degrade its graphic identity & won't wear out from use or cleaning.
Short lead time – once the art work approval is done.